AUGUST 4, 2023
Fr Terence Mahedy RIP
We give thanks to God for the extraordinary life and ministry of Fr Terence Mahedy.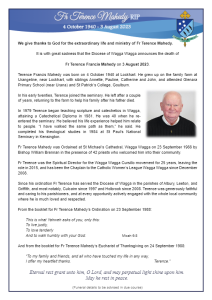 It is with great sadness that the Diocese of Wagga Wagga announces the death of Fr Terence Mahedy, Parish Priest of Culcairn Parish and Administrator of Holbrook Parish.
Fr Terence passed away on Thursday 3 August 2023 at Culcairn hospital, surrounded by his family.
Please pray for the repose of the soul of Fr Terence, and for his family at this difficult time.
Eternal rest grant unto him, O Lord, and may perpetual light shine upon him. 
May he rest in peace. 
Funeral arrangements for Fr Terence Mahedy are as follows:
Holbrook
Memorial Mass for the Deceased
will be offered in Our Lady of Sorrows Church, 145 Albury Street, Holbrook
on Monday 21 August 2023 at 5:30pm
Principal Celebrant: Fr Bernie Thomas
Presiding: Most Rev Mark Edwards OMI
Culcairn
Mass of Christian Burial
will be offered in St Patrick's Church, Blair Street, Culcairn
on Thursday 24 August 2023 at 12:00pm
Principal Celebrant: Most Rev Mark Edwards OMI
Concelebrating: Priests of the Diocese of Wagga Wagga
Visiting Priests wishing to concelebrate, please use the online form here: Visiting Clergy
Extra seating will be available at the Soldiers Memorial Hall across the road from the church.
A link to the live streaming of the Mass of Christian Burial will be available at the following link: Ovrlstream.com.au/mahedy