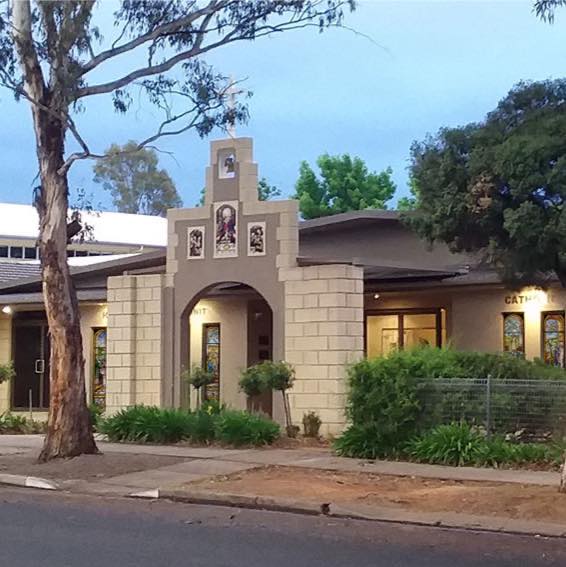 Holy Trinity Parish West Wagga Wagga
We are currently updating content about our parish. Please check back again soon.
For information about weekly church services, mass times, upcoming activities, events, and parish contacts, please see details below.
Churches and Times
Holy Trinity Church
Bardia Street Ashmont
Monday-Saturday - 7:00am
Friday - 10:15am
Sunday - 9:00am; 10:30am and 5:30pm
Our Lady of the Blessed Eucharist Church
Benedict Avenue San Isidore
Vigil Saturday - 6:00pm
Monday-Friday - 6:00pm
Confessions
Sacrament of Penance
Saturdays - 11:00am-12:00noon
Prior to weekend Masses or by request
Baptisms and Marriages
by appointment
For more Parish News and Activities, go to our website: https://westwaggaparish.com/ 
Eucharistic Adoration - Daily at Holy Trinity - 6:00-7:00am
Friday - Eucharistic Adoration - after 10:15am Mass
Anointing of Sick Mass - 1st Tuesday - 10:30am Mass
Prayer Vigil for Peace - 1st Thursday - San Isidore 5:30pm
Contact Peggy Adamson Refugee Committee Ph 02 6931 3059
Fatima Family Traveling Statue - Contact Legion of Mary Ph 02 6931 3601
West Wagga Ladies Auxiliary info Julie Papasidero 0407 931 274
Youth Activities contact Fr Thomas 0408 492 632 or 6931 3601
West Wagga Wag (monthly parish newsletter) - email  westwaggaparish@hotmail.com  or 6931 3601 content by 21st of the month.
5 Bardia Street, Ashmont NSW
2650
PO Box 4055
Ashmont NSW 2650