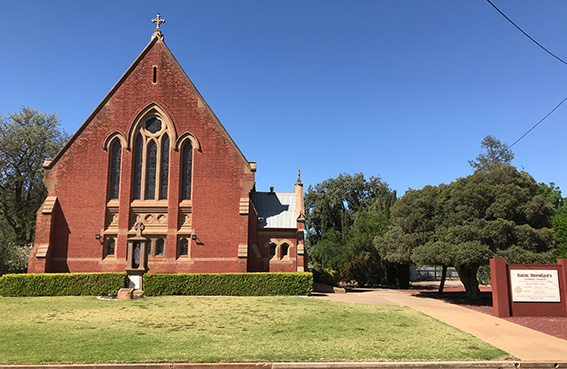 Ganmain Parish - St Brendan's
For information about weekly church services, mass times, upcoming activities, events, and parish contacts, please see details below.
St Brendan's Ganmain
43 Langham St.
Ganmain NSW 2702
02 69276438
Sunday Masses
9:00am Sunday
Weekday Masses:
Monday to Friday:
December-February 7:30am (Tuesday, Thursday)
5:30pm (Monday, Wednesday, Friday)
March-November 5:30pm
Saturday Masses
8:00am (usually in the convent except 1st Saturday in the church).
N.B. Please ring the parish or check the church notice board to confirm details.
Confessions
30 minutes before every Mass each day
Church Opening Hours
All day, every day.
St Patrick's Matong
15 Wood Street
Sunday Mass
6:00pm (Saturday Vigil)
Confessions
30 minutes before Mass
Baptisms, Marriages, Funerals & Spiritual Direction
By Appointment
Eucharistic Adoration & Benediction
Usually Friday 4:20-5:20pm & often Sunday 4:30-5:30pm
Rosary
25 minutes before the start of every Mass.
Stations of the Cross
6:00pm Fridays in Lent
Bible Study
Sunday 3:10-4:30pm (when a study is being run)
Youth Group
Friday 6:00-9:00pm on a fortnightly basis (during school terms).
N.B. Not currently meeting.
Please contact us for details regarding: 
Special Religious Education (SRE)
Home Visitation & Blessing
Pastoral Care of the Sick
Faith Education
Legion of Mary
Altar Server Training
RCIA
Convents
Conventual Sisters of St Dominic (semi-contemplative religious institute)
47 Langham Street, Ganmain NSW 2702
www.conventualsistersofstdominic.org 
43 Langham Street, Ganmain NSW
2702
PO Box 25
Ganmain NSW 2702